At Inclusive Peace we look back at 2021 and point to five trends that shaped peace and political transition processes in the year that went by. In this first piece, we sketch out the trends and invite you to follow the upcoming pieces on the specific trends, which we will post in the weeks to come.
As many of us prepare to take time off over the holiday season and before 2022 starts in earnest, our daily news and social media sites tend to be clogged with lists – anything from "your top 5 whiskeys" to "holiday destinations in a time of COVID" are listed for you.
At Inclusive Peace, we have an end of year list as well: In this blog piece we present 5 trends which shaped peace and political transition processes over the past year, and which are set to continue going forward.
AUTHORITARIAN BACKLASH AND PATHWAYS FOR CIVIC ACTORS
On multiple occasions in 2021 (think Tunisia or Sudan) the waves of optimism which have met transitions to civilian government or political reform have, overtime, been met with authoritarian backlash which has threatened to reverse any gains achieved in terms of more inclusive, democratic governance. Moreso, authoritarian systems in Myanmar, Hong Kong and elsewhere remain in power despite notable civic movements challenging their actions.
This is a historically common trajectory, and what Gilbert Achcar describes as the inability of the more progressive elements of a society to address it's "morbid symptoms" before they instigate a reversal. Seeing this dynamic play out, we explore the implications for the civic actors that nevertheless seek to secure and advance more progressive pathways for inclusive societies and we also reflect on reactive and proactive strategies these actors can pursue.
WOMEN, PEACE & SECURITY: INCLUSION IS STILL LACKING 
In 2021, as in so many other years, we observed how we and other key players in the women, peace and security field have come together to talk about how women's inclusion in peace and political transition processes is still lacking and voiced out the need for change.
But the desired change keeps us waiting. In this piece we look at some of the underlying factors for why women's inclusion in peace and political transition processes hasn't gone mainstream yet – if women were a natural part of peace and political processes we would leave the inclusion terminology all together. We look at what more can be done to advance this important agenda in a pragmatic way taking into consideration the broader elements of intersectionality, pluralism and diversity and we sketch out clever strategies and examples of how to get implementation going.
INCLUSIVE PROCESSES WITHOUT INCLUSIVE OUTCOMES
In the past year, we have seen substantial challenges concerning contemporary peacemaking – and this trend will certainly carry forward in the coming year. This is not necessarily tied to the lack of normative frameworks in which to inform and shape peace processes. Indeed, there has been significant progress over the last two decades in the development of normative policy frameworks – such as the WPS agenda, the YPS agenda, and the Sustaining Peace resolutions. In many instances, these frameworks have inspired more inclusive peace and political transition processes.
However, this has not resulted in the types of inclusive outcomes that were assumed to follow from inclusive processes. Why not? In this piece, we discuss why inclusive frameworks do not necessarily lead to inclusive outcomes and we discuss what more needs to be done to move in order to create pathways to inclusive societies instead of focussing solely on inclusive processes.
THE DISCONNECT BETWEEN CLIMATE CHANGE AND PEACE AND POLITICAL TRANSITION PROCESSES
2021 was again a year of more bad news on the climate front. The global climate crisis is more than ever an inevitable fact and climate change plays a key role in all current peace and political processes. However, we observe a disconnect between climate-related policies and global peacebuilding and peacemaking efforts.
In the recent COP 26 meeting in Glasgow, world leaders gathered in an effort to bridge differences and chart a way forward to address the climate crisis. While some progress was made, the latest projections point a worrying picture particularly for countries affected by violent conflict, which for the most part will also be those most affected by climate change. In this piece, we will reflect on what this means for peace and political transition processes, as well as what faltering and failing processes mean for any efforts to address or mitigate climate change.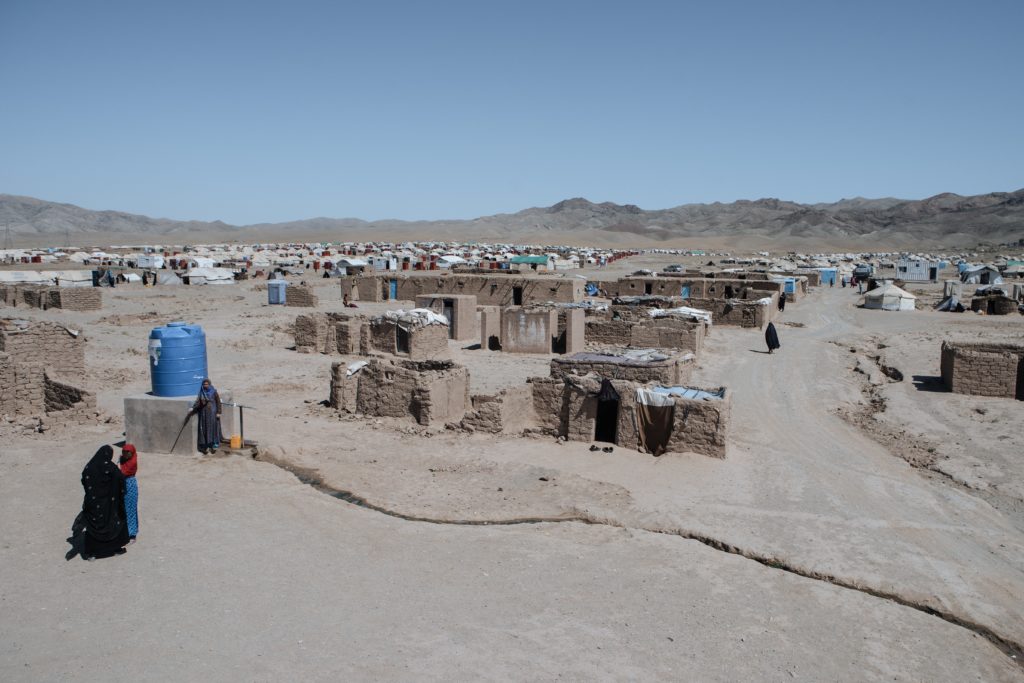 Two Afghan women in Shahrak-Sabz Internally Displaced People's camp on the outskirts of Herat. The drought has hardest hit the western region of Afghanistan, Herat. Photo: Shutterstock
SOCIAL MEDIA IS A NEW FRONTLINE
In 2021, social media platforms proved to play a central role in both decentralising the power to shape narratives and serving as an ideal channel to spread disinformation and hate speech. However, the spreading of disinformation is not as new as we might think – disinformation has always been a feature of conflict.
In the early and mid 20th Century, this involved pumping out posters and blasting radio programmes to mobilize the masses. The message hasn't necessarily changed, but the means and speed in which it is spread represents a shift in how wars are waged. Now, social media is a key battle front and presents a fundamental challenge to how peace can be sought. In this piece we look at how we see this play out in the contexts we work in and what we see as key strategies for building peace in this new reality.
SUM UP
This list is written at a time when we are seeing many peace and political transition processes unravel. In Bosnia and Herzegovina, the tenuous threads of unity achieved by the 1995 Dayton Peace Accords risk being severed. In Northern Ireland, the implications of Brexit have brought into question fundamental elements of the 1998 Good Friday Agreement. And in Lebanon, the structural frailties of the Taif Accord and the Doha Agreement were once again highlighted by recent clashes between rival armed factions.
These are just a few recent examples which illustrate that even long-standing, so-called "successful" peace agreements can be deceptively fragile when new dynamics emerge, or when old dynamics resurface. It also points to the fundamental need to rethink how peace processes are designed, implemented, and sustained.
With this blog series we hope to inspire peace practitioners around the globe on how to do this in practice – keep an eye out for the upcoming instalments in the blog series by signing up to our newsletter.