Events: October
Each month we bring you a selection of key peacebuilding dates in the month to come. Here are a choice of selected October events and observances. 
20 October: Open Debate – Women, Peace & Security
The UNSC will hold its annual open debate on women, peace and security (WPS), titled "Strengthening women's resilience and leadership as a path to peace in regions plagued by armed groups." This debate will come after the eagerly awaited release of the Secretary General of the United Nations' report on WPS. The briefers for this session will be Deputy Secretary-General Amina Mohammed, UN Women Executive Director Sima Sami Bahous and two women civil society representatives.
23-30 October: Disarmament Week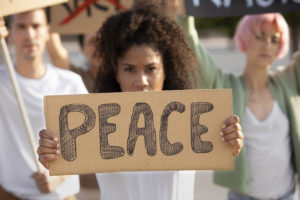 A major obstacle to peace is the spread of weapons. While the deployment of large conventional weapons in populated areas puts civilians in grave danger, the excessive stockpiling and illicit trade of conventional weapons jeopardise international peace and security as well as sustainable development. The threat posed by novel and developing weapons – including autonomous weapons – has drawn the attention of the world community in recent years.
Photos from Freepix Photos